EXTEND TIRE LIFE & PREVENT SHUDDER/VIBRATION ON YOUR TESLA MODEL X&S
Tesla's Tire Wear & Shudder Issues
From the factory, Tesla Model S and Model X cars come with two major design flaws that cause a front end shudder or vibration and shortened rear tire life.
The first design flaw is noticed under hard acceleration and presents itself as a shudder, vibration or sometimes extreme shaking coming from the front of the vehicle.  This shudder occurs because of internal damage to the front half-shafts.  The damage happens because the angle of the front half-shafts or drive axles between the motor and the wheels is too steep and causes extreme tension and binding within the half-shaft. This binding will damage and deform portions of your half-shafts' internals and leave you with what's been commonly referred to as acceleration shudder.  The only solution from Tesla's Service Centers is to put the car's suspension in "Low".   However this then exacerbates the second design flaw where the rear wheels tilt too far inwards.  The Tesla Model S and X are already known to wear out the rear tires on the inside edge due to excessive negative camber, or wheels tilting inwards from the top.  Lowering the suspension setting makes the wheels tilt in even further!  This causes more the weight of the car to rest on the inner shoulder of the wheel.   Driving this way quickly wears down the inside edge of the rear tires which can cause a sudden and unexpected dangerous blowout.
These two problems are by far the most talked about issues in the online Tesla groups.  Fortunately, these design flaws are correctable with N2itive's adjustable suspension components. Our Alignment Kit 1 can automatically set the car to a lower height to reduce premature half-shaft/CV joint wear and accompanying acceleration shudder and allow the rear wheels to be properly aligned to eliminate the common inner tire wear problem.   All while staying within Tesla's alignment specifications.  This is important for the proper functioning of the vehicle and for your safety.
Our adjustable suspension components are known to be the strongest and best engineered on the market by far, even more so than Tesla's own factory parts! All our products come with an unmatched 6-year warranty.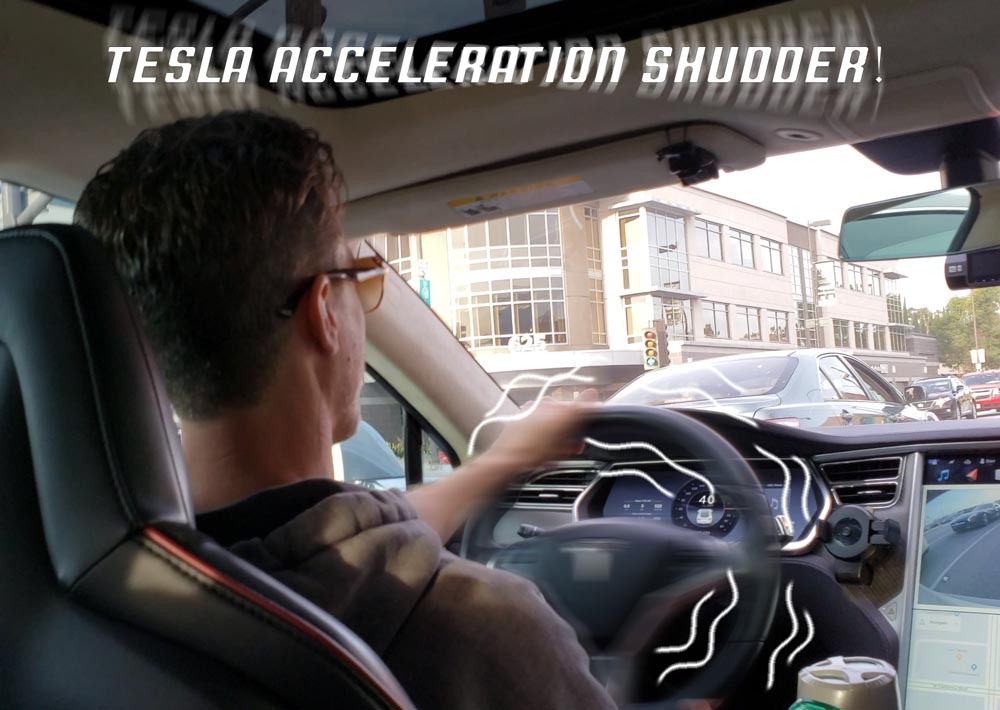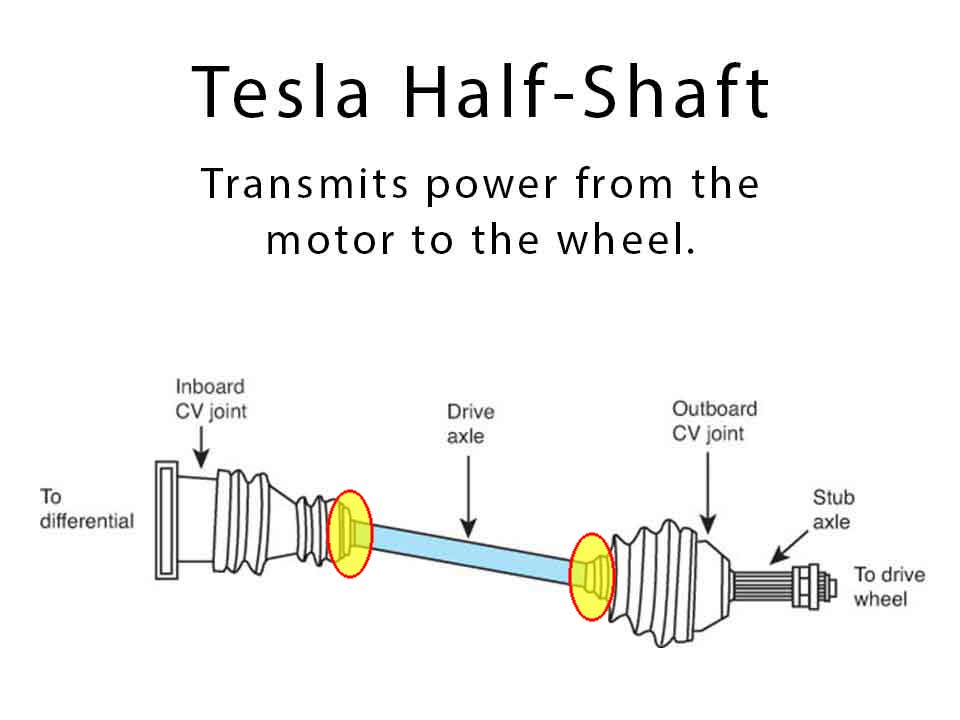 Reduced Angle Makes The Half-Shafts Less Prone To Binding

How It Works
In 2014, Tesla added another motor to the front of the Tesla Model S to make it an all-wheel drive car.  This was a great idea, but they used the original Model S platform, which was designed as a rear-wheel drive vehicle.  Tesla decided not to redesign the platform but to use the same chassis and work within the constraints of that design. This essentially meant mounting the new front motor/gearbox higher up than would be ideal for the longevity of the half-shafts (drive-axles).  Mounting the motor so high up increases the downward angle of the half-shafts and therefore increases the stress and binding forces within them. The weight of the vehicle coupled with high torque motors with the excessive angle of the half-shafts can quickly deform the insides of the half-shafts and then you have vibration. This issue is even more common on the X because it sits higher up and therefore puts the half-shafts at a greater angle making it more prone to damage.
N2itve offers two suspension kits to address these issues.  The first kit is our Alignment Kit 1 which is also know as the acceleration shudder and inner tire wear kit. It includes all the suspension parts necessary to automatically slightly lower the vehicle and keep the wheels in proper alignment to ease the excess binding inside the half-shafts and completely eliminate inner rear tire wear. Our second kit, Alignment Kit 2 is designed strictly to eliminate inner rear tire wear and make it possible to dial in the perfect alignment at your preferred height setting all while staying within Tesla's alignment specs.  There are no lowering links provided with the latter inner rear tire wear kit.
Will installing your parts void my warranty?  US and Canadian citizens are protected by the Moss-Magnuson Warranty Act and the Consumer Protection Acts which makes it illegal for an automobile manufacturer to void your warranty while using aftermarket parts unless they can prove that some damage to your vehicle was directly caused by using the aftermarket parts.  The UK and other countries have similar consumer protections but you'll need to check in your area to confirm.  Please check the FAQ section for more details on that question.
So which kit should you get?  If you drive a Model X then we definitely recommend our Alignment Kit 1.  The Model X is the most prone to internal half-shaft damage so this would be the kit to get.  If your Tesla is an all-wheel drive Model S performance then we also recommend the Alignment Kit 1 since the performance versions have greatly increased torque.  For the Model S non-performance versions you can go with either kit.  If you're heavy on the accelerator then go for the Alignment Kit 1.  For the rear wheel drive versions and non-air suspension versions of the Model S then we recommend the Alignment Kit 2.  Still have questions?  We understand and are always available to help!  Just send us a message.
N2itive's Acceleration Shudder & Rear Inner Tire Wear Kit Installed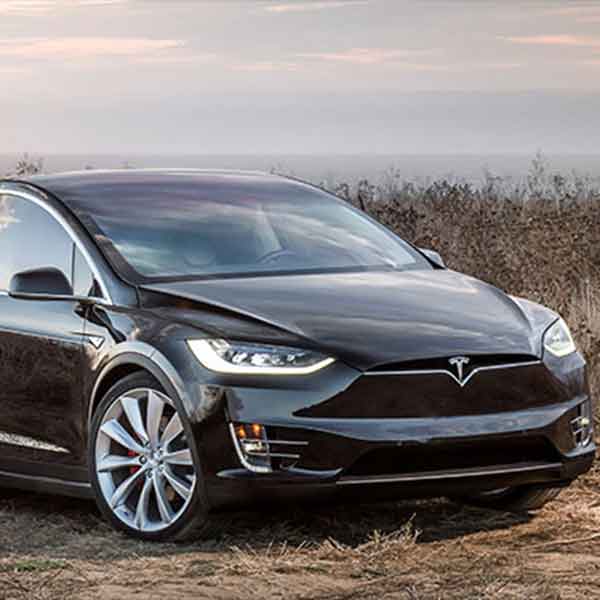 Chris Lee – Arizona
"These parts are incredible. Much more substantial than the OEM parts and stunning! 😍 The guys at the shop are gawking over them."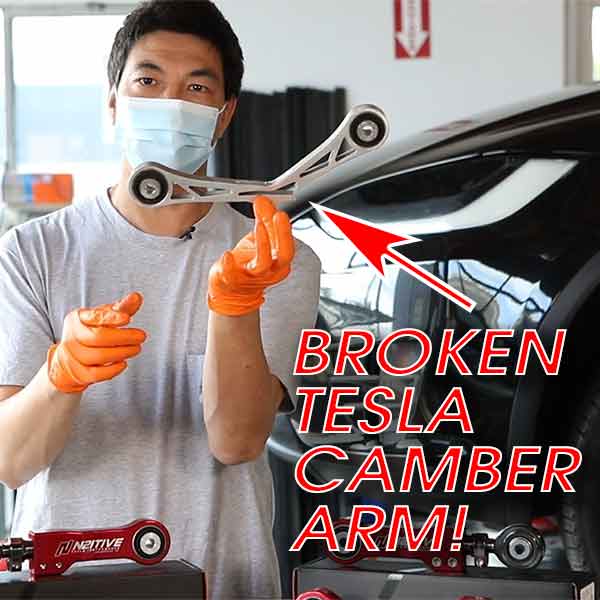 EVfixMe, Tesla Mechanics – Costa Mesa, CA
"We use only N2itive control arms for our customer's cars… all I can say is their quality is Superior."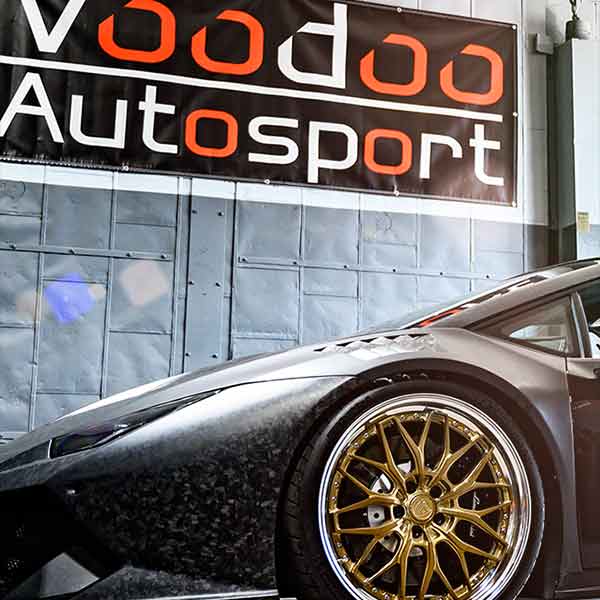 Eric Cheney (Master Mechanic) – Santa Ana, CA
"From all the arms I've installed over the years, you've made a solid part!"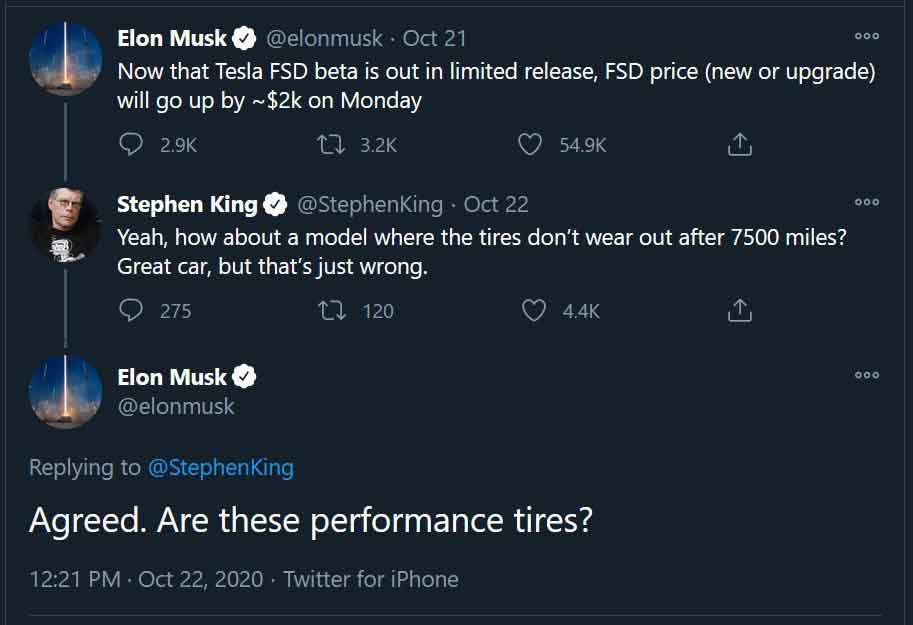 Stephen King Doesn't Accept The Inner Tire Wear Issues Either (Hint: It has nothing to do with performance tires…)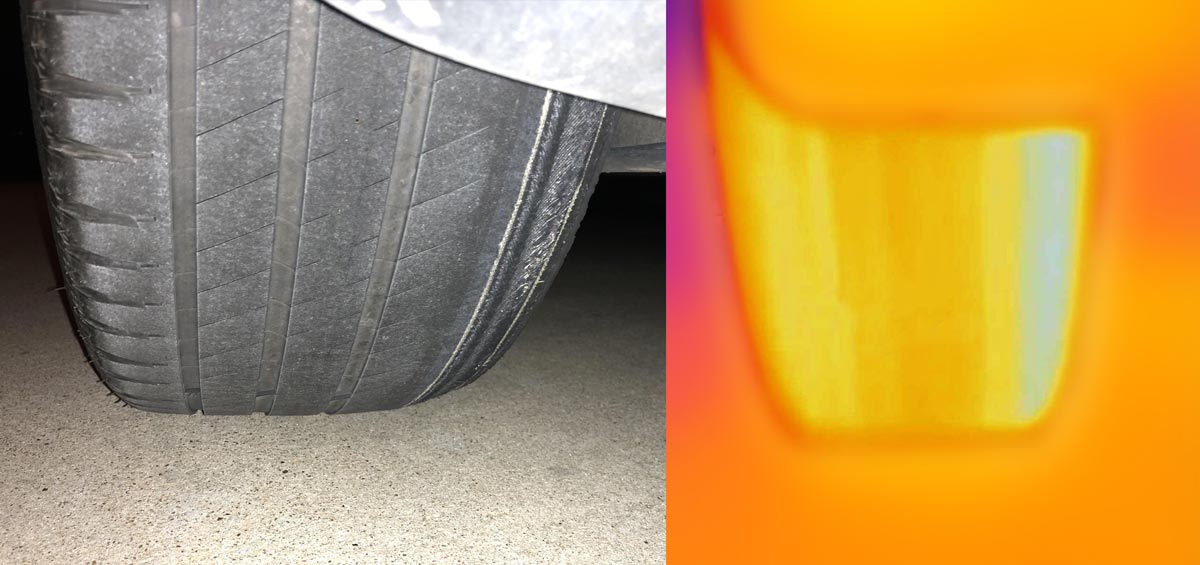 Thermal Camera Showing Inner Edge of Tire Taking More Of The Load
Safety In Strength
Aside from little to no adjustability, some of the original Tesla X and S suspension components were not the most robust design.  For example some owners have had issues where the camber arms will bend or break going over potholes or bumps in the road.  You can imagine how dangerous it is to have such an important suspension component suffer a catastrophic failure!  N2itive's camber and toe arms are significantly stronger as you can see in this FEA analysis.
N2itive was the first company to mass produce adjustable rear camber and toe arms for the Tesla Model S/X. And we are the only company to produce these control arms with the threaded rod on-axis with the bushings.  This is critical.  In our FEA testing this results in a control arm that is over 40% stronger than off-axis designs like our competitors use.   Our rod ends are dropped forged from a single piece of 4140 Ultrahigh-Strength Chromoly steel, not two pieces welded together.  Our design is much stronger than Tesla's factory control arms significantly stronger than the competition.  Furthermore our threaded rod is located at the bushing end and not in the center of the control arm as with other companies where it is more prone to bending/breaking.  Even under far greater weight and stress N2itive's control arms won't fail.  This is so important when you're dealing with the heaviest consumer vehicles in the world!  Don't settle for less.
SAVE YOUR TIRES AND HALF-SHAFTS WITH N2ITIVE
Alignment Kit 1 – Acceleration Shudder & Inner Tire Wear – Tesla Model X & S
$1,995.00 – $2,495.00
Now In Stock and Shipping!
N2itive's Alignment Kit 1 was designed to address the common acceleration shudder and inner tire wear issues that plague the Tesla Model S and X.  An online poll suggests that approximately 70% of Model X's have suffered from the acceleration shudder issue alone.  There is currently no permanent fix from Tesla.  N2itive's Alignment Kit 1 will reduce the premature wear on your half-shafts (drive axles) to help prevent the onset of this problem.  This kit allows your half-shafts to be more on-axis with your wheels to reduce binding that causes damage.
If your Tesla X or S suffers from the inner tire wear issues, this same kit will completely eliminate this problem and allow you to achieve up to 2-3x more life out of your rear tires.  Furthermore your Tesla will have improved handling and responsiveness, and improved aerodynamics, efficiency and mileage.  This is currently not possible with the factory supplied non-adjustable control arms and suspension parts.  All our products are made with the highest quality materials and craftsmanship for years of endurance and come with any necessary hardware for a complete installation.  A 6-year warranty is included.  If you need anything, our customer support is always available.  Contact us with any questions.  We're here to help!
Description
Acceleration Shudder & Inner Tire Wear On The Model S and X

Many all-wheel drive versions of the Tesla Model S and X suffer from what's become to be known as acceleration shudder or vibration that comes from the front end of the vehicle while you're accelerating.  This problem can also present itself as clicking or clunking sound from the front and often times while you are accelerating through a turn.  If you don't have the issue yet, you quite likely will so it's critical to prevent it before it starts to avoid costly repairs.  It's important to note that vibration coming from the front of the vehicle could be coming from another source such as unbalanced tires or Tesla's built in lane-departure warning, but that type of vibration would happen at different times and not just during acceleration.  If you have a vibration or shudder coming from the front of the vehicle while you are accelerating then you most likely have the common acceleration shudder problem, which is destroying your half-shafts (drive axles).
The source of this problem stems from the outer CV joints in your Tesla's front half-shafts.  These drive axles transmit power from the motor to the front wheels.  However on a Tesla, the half-shafts are positioned at an angle that is too extreme for smooth rotation.  In other words, the front motor  sit up much higher than the front wheels so the half-shafts have to transfer the power at a steep angle down to the wheels below, which are well off-axis from the motor.   With such a heavy car, high torque motors and the steep angle of the half-shafts, over time certain parts inside the half-shaft will fatigue and become marred.  As the half-shafts rolls over these imperfections the car will have shuddering or vibration.  Ideally the half-shafts would need to be more on-axis to eliminate the cause of this issue.  That is where our Alignment Kit 1 can help. This kit lessens the steep angle of the half-shafts to reduce binding which is one of the main causes of internal damage.
Tesla does not currently have a permanent fix for this.  If you have this problem right now, Tesla will replace both half shafts and also install a new left front drive unit clevis mount.  This will typically solve the shudder problem for a little while but it will come back, from as quickly as 500 miles to as long as 10,000 miles.  Tesla may not cover this repair under warranty, because Tesla considers this a "wear and tear issue" which is not covered under warranty.  Much like worn tires are not covered under warranty.  So you may have to fight, for them to replace everything for free.
At N2itive, we have engineered a kit to reduce the angle of the half-shafts which reduces wear and prolongs their life.  By installing our Alignment Kit 1, also known as our Acceleration Shudder & Inner Rear Tire Wear Kit we reduce premature half-shaft wear and completely eliminate the inner tire wear problems in one shot.  Installing our kit will pay for itself many times over during the time you own your Tesla in the cost of tires alone.  If you suffer from the inner tire wear issue that so many of us have then you could easily double or triple your tire life, since your tires will now be in a perfectly symmetrical alignment and wear evenly.  Beyond that, the safety factors alone are essential.    Everything you need is included in the kit.  Installation can be performed by the home mechanic or you can take it to a local alignment shop that has experience with installing and aligning adjustable control arms.

Our kit includes 3 main pieces.  First is a set of our RSX-1 ultra-precision lowering links.  These allow you to easily and super accurately lower your Tesla slightly to help bring the half-shafts closer to a straight angle and reduce binding.  We recommend setting them to the -5 setting or less (up to -10) on each link.    Only a slight drop in vehicle height is required to reduce wear on your half-shafts.  Our links go down to -13 if you really want to go for the lowered look.  Our ultra precise lowering links are easily and very accurately adjustable to allow you to set the ride height of your choice.
Also in the kit is our SX-1 and TSX-1 adjustable camber and toe control arms.  Both of these adjustable control arms are installed in place of your current rear control arms to allow you to set a perfectly symmetrical alignment.  The end result is a car with, significantly improved tire wear, reduced binding and wear in your half-shafts, far better handling and agility and improved aerodynamics.  Plus you'll get better mileage than the same Tesla without our kit.  Even if you don't yet have the common front end acceleration shudder/vibration it's worth installing this kit to prevent your expensive front drive axles from wearing out prematurely.  If your half-shafts are already showing signs of wear they may need to be replaced.
N2itive's Alignment Kit 1 comes in two variations. Both of the adjustable control arms in the kit come with custom made spherical and annular bushings.  The first version is fabricated primarily of heat treated automotive grade aluminum and anodized in a matte red with great corrosion resistance. The upgraded version is based off of a heat treated aerospace grade aluminum which has almost double the ultimate tensile strength over our red version. In addition to being substantially stronger, this version has an amazing bright nickel black plating finish for improved corrosion resistance and insane looks. Either way you can't go wrong.  Both versions are stronger than any other brand, including Tesla's own.
All our products are made with the highest quality materials and craftsmanship for years of endurance and come with any necessary hardware for easy installation and a 6-year warranty is included.  After purchase please have the installer and alignment shop visit our installation pages to make sure they install and align the kit correctly!   If you need anything, our customer support is always available.  Contact us with any questions.  We're here to help!
Why Choose N2itive

At N2itive we give you the highest quality parts and craftsmanship at a reasonable price. Everything we create is meticulously well thought-out, precision engineered and FEA and real-world tested! We are the first and only company to make our camber arms where the threaded adjustment rod remains both on-axis and away from the center of the arm. This improves the strength of the arms by over 40%! That's important with the extreme weight of a Tesla. No one else has this. All of our components are custom made. Nothing is off the shelf. Take our spherical bushings for instance… made with high strength steel that's been electroless nickel plated for amazing wear and corrosion resistance. Each bushing incorporates a Teflon infused Delrin liner for a lifetime of trouble-free, maintenance-free use. You can count on us to only give you the best with all our parts and we back that up with a 6-year hassle-free warranty to the original purchaser. Our products are the strongest, safest and most durable aftermarket Tesla parts you can buy, guaranteed! Not to mention, they look incredible.
Additional information
| | |
| --- | --- |
| Weight | 245 oz |
| Dimensions | 14.25 × 8.5 × 3 in |
| Finish | Matte Red Anodized, Bright Black Electroless Nickel Plated, Aerospace Grade Aluminum |
ELIMINATE INNER TIRE & PREMATURE HALF-SHAFT WEAR WHICH CAUSES ACCELERATION SHUDDER OR VIBRATION. GET A PERFECT ALIGNMENT…
All of our products are in stock and shipping now! We strive to make only the highest quality Tesla aftermarket parts for your Tesla. All our parts are made in ISO 9001 and TS16949 certified factories.