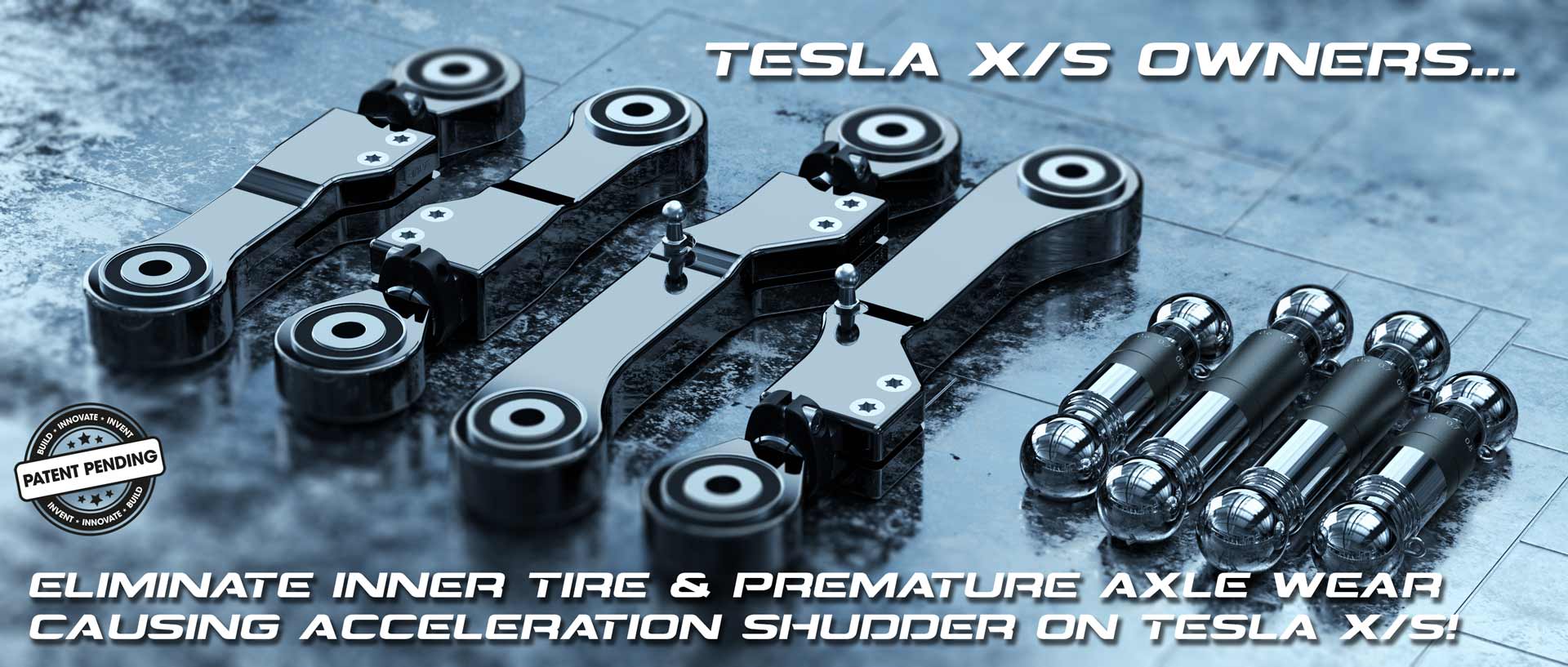 Before You Destroy Another Set Of Tires…
Designed By N2itive
Los Angeles, California
N2itive.me – Introduces The Essential Tesla Mod!
I love my Model S but if you drive an S or X like me, you may have noticed the inner rear tires wearing out way too quickly.  Even after having the vehicle aligned, the problem most often remains.  With Teslas, rear inner tire wear is typically due to a combination of negative toe (where the wheels toe outward in a slight "V" shape) and excessive negative rear camber (inward tilt from the top of the wheel).  Only toe is adjustable on the Tesla S and X and not very much at that.  The rear wheel camber is not adjustable from the factory which is why having an alignment performed usually doesn't help.  While some negative camber is essential for good traction during cornering, having too much can wear out the inner tire's edge.  This creates a critical situation where many of us have experienced the tire quickly lose air pressure or completely blow out without warning, destroying a very expensive tire and wheel and possibly causing an accident.
It can be a bit of an illusion.  A quick look or feel of your rear tire tread and everything seems fine.  It's not until you lie on the ground and look way back at the very inside edge that you see how bad your tire's condition is.  Many Tesla S and X owners like myself are getting only 5-10 thousand miles out of the rear tires.  This means spending anywhere from $400 – $1,200 for a pair of new tires every few months.  Not to mention spending time at the tire shop way too often.
Chris Lee - Arizona
"These parts are incredible. Much more substantial than the OEM parts and stunning! 😍 The guys at the shop are gawking over them."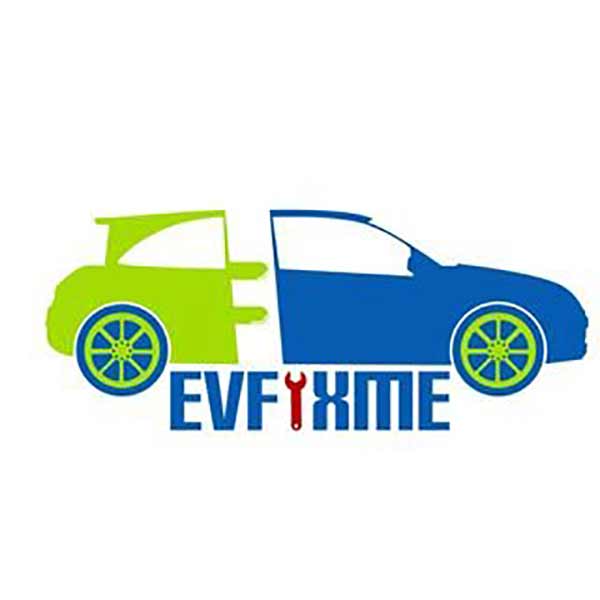 EVfixMe, Tesla Mechanics - Costa Mesa, CA
"We use only N2itive control arms for our customer's cars… all I can say is their quality is Superior."

Eric Cheney (Master Mechanic) - Santa Ana, CA
"From all the arms I've installed over the years, you've made a solid part!"
Safety In Strength
The original rear camber arms supplied with the Tesla S/X were not the most robust design.  Some owners have had issues where the camber arms will bend or break going over potholes or bumps in the road.  N2itive's camber and toe arms are significantly stronger as you can see in this FEA analysis.  The original camber arms suffer about 3x more deflection under less stress compared to N2itive's adjustable SX-1 camber arm.  Even under far greater weight and stress N2itive's control arms won't fail.
N2itive SX-1 Adjustable Camber Arms
How It Works
As you can see in the below image of the Tesla S/X rear suspension, the camber arm is fixed or non-adjustable.  Whatever degree of negative camber you have is what you're stuck with and by no means are all Teslas the same!  Tesla recommends having a rear negative camber of -1.75° +/-1.00° for air suspension.  So that equals a maximum suggested negative camber of -2.75° to as little as -0.75° to be within their specs.  For coil suspension Tesla recommends a rear negative camber of -1.25° +/-1.00° which equals a maximum suggested negative camber of -2.25° to -0.25°.   It's important to understand that just because you're within Tesla's alignment range does not mean you won't suffer from inner tire wear!
OEM Tesla S/X Rear Suspension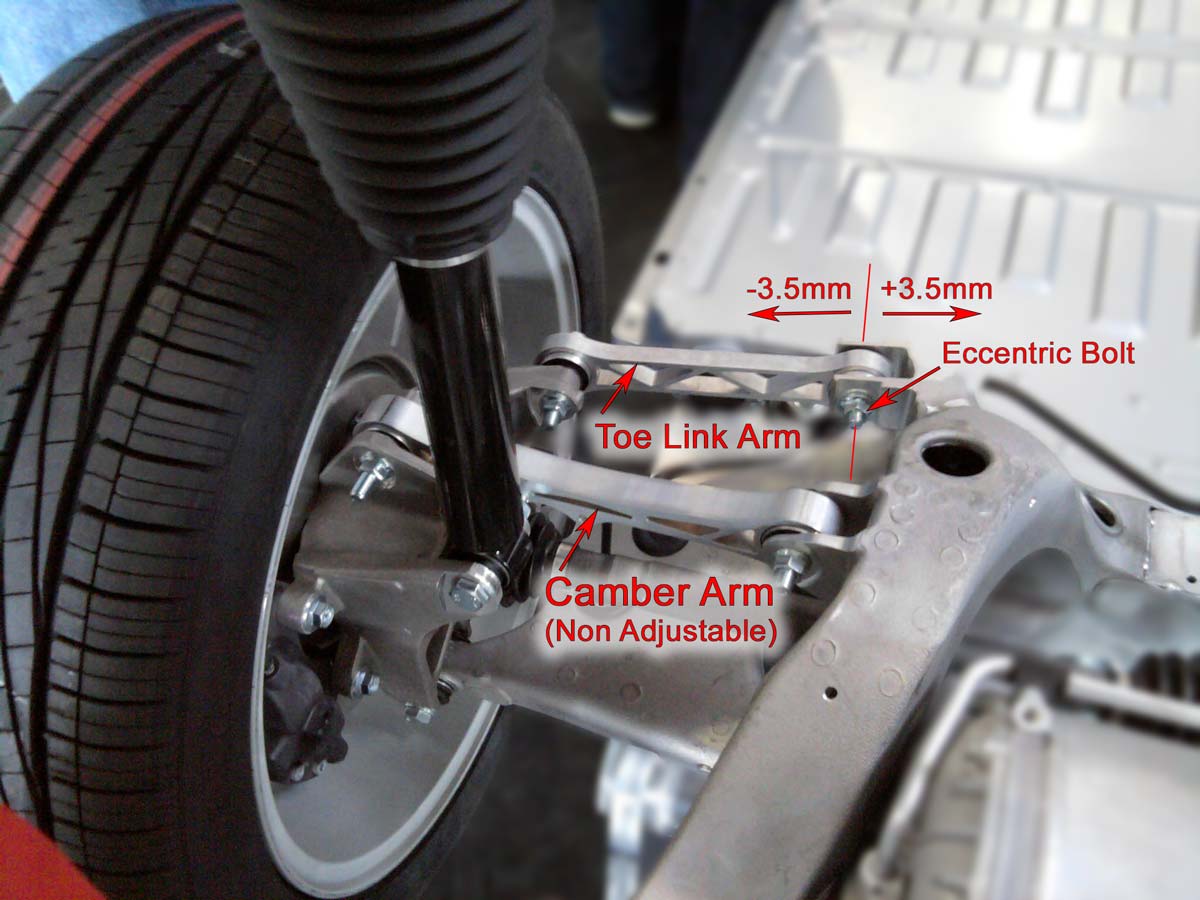 Inherently Limited Adjustability From The Factory
Keeping your rear negative camber at -1.00° is about optimal for even tire wear while maintaining good control in cornering.  If you have more negative camber than that is where you start to notice inner tire wear.  Also as the rubber annular bushings in the camber arms begin to sag and break down with age you'll develop more negative camber.  This is why as Tesla's get older the inner tire wear issue becomes worse.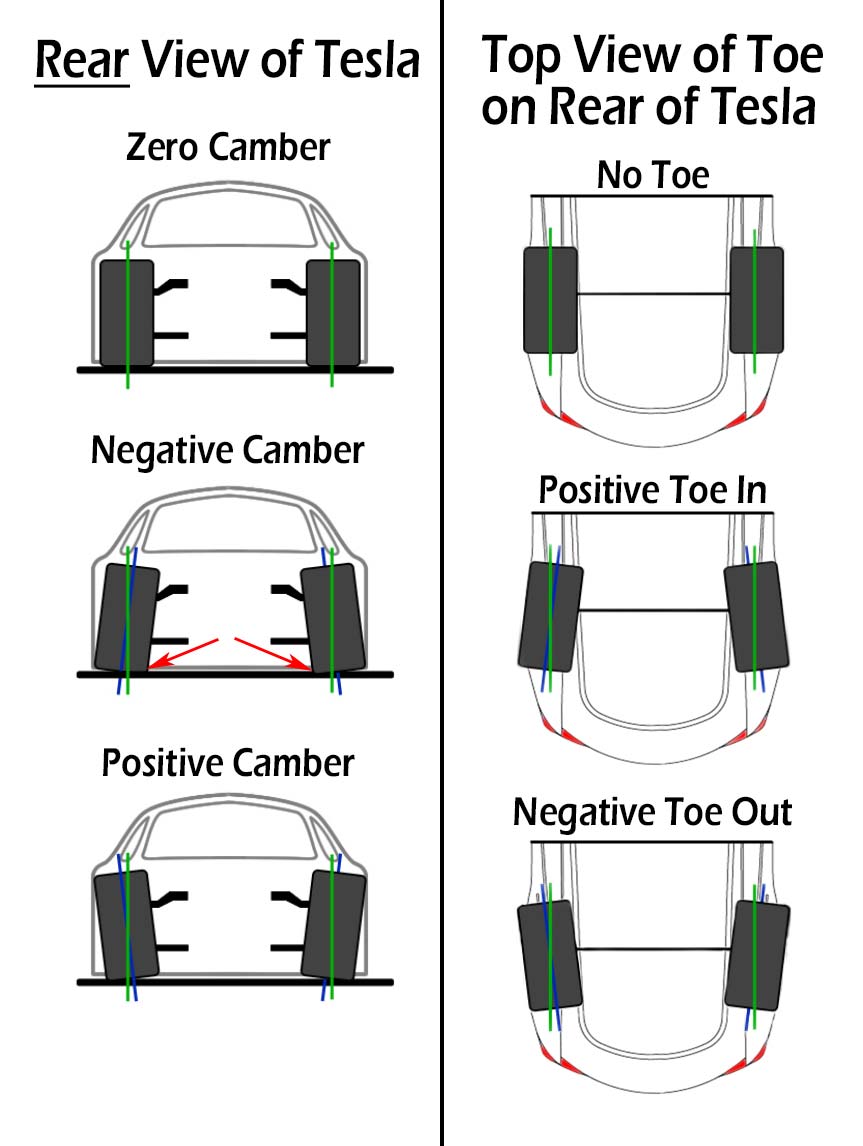 So it sounds easy enough then, just replace the factory camber arms with a pair of N2itive's adjustable SX-1 Camber arms, have the vehicle aligned with the rear camber set to -1.00° and the problem is solved.  For many Tesla owners this will be the case and only a pair of SX-1 camber arms will be necessary.  There is one other thing to consider however and that is toe.  As you adjust the camber, the geometry of the suspension begins to change.  Adding more camber will cause the wheel to "toe in".  This can generally be compensated for by turning the toe arm's eccentric bolt to push the toe arm further out.  The problem is that you only have 3.5mm from the bushings neutral position to push the toe arm out.  That's about the thickness of a USB cable.  Not much adjustment potential at all and perhaps not enough to get the "toe" into the correct specs while your rear camber is now in an optimal position.  So to deal with this we created adjustable toe arms as well.
Save Thousands On Tire Wear By Installing N2itive's Adjustable Arms!
N2itive's new TSX-1 adjustable toe arms are far more robust than the factory arms and they come with a pair of spherical and annular bushings for the best alignment and driveability.  The original OEM arms came with only annular bushings.  The N2itive TSX-1 gives you up to 15mm of positive toe in and 15mm of negative toe out to dial in the perfect alignment regardless of your situation.  Picking up a set of both N2itive's SX-1 Camber Arms and TSX-1 Toe Arms will allow you to dial in perfect rear wheel alignment which is currently not possible with Teslas.  If there is any confusion or you have questions then please check our FAQ page or reach out to us.  We'll help you figure out the best solution.
N2itive's TSX-1 Adjustable Toe Arms
Both the N2itive SX-1 adjustable camber arms and the TSX-1 adjustable toe arms or toe links come in two variations.  For the budget conscious you can get the arms constructed out of automotive grade heat treated aluminum that's been anodized red for corrosion resistance.  For an additional $100 per arm you can get the insane looking electroless bright black nickel plated finish with an outstanding corrosion resistance and amazing looks.  Plus those arms are constructed out of heat treated aerospace grade aluminum for almost twice the ultimate tensile strength over red version!   Either way you're getting the highest quality design and craftsmanship.  All arms come with brand new bushings and the required hardware to to make installation quick and easy.  No need to attempt to press out your old bushings.
Your Tesla Needs N2itive's
Adjustable Control Arms!
SX-1 Adjustable Rear Upper Camber Arms (1 PAIR) For Tesla Model S/X, 2012 – 2020
$644.00 – $844.00
UPDATE 9/30: Now expected November 15th.  Most of the parts are finished.  The aluminum forged arms took much longer than expected so we rush ordered a batch of them made by CNC.  These are now finished and undergoing surface finishing and assembly.

As a thank you for your patience we are now offering 15% off our kits and control arms that are out of stock for a limited time if you order now!  We will ship it to you as soon as they are back in stock.  Use coupon code WOW15 at checkout.
The next shipment will also be our newly revised parts.  We've made a lot of changes but most notably is the ease of adjustment and we are using a fully forged design now for the entire arm.  We also now have the option for a clear/natural anodized finish as well.  There are no pictures yet as we are working on a provisional patent application for this new design.  Thanks again for your support and don't forget to use WOW15 at checkout.
 N2itive's SX-1 adjustable camber arms were designed to address the common inner tire wear issues that plague the Tesla Model S and X.  We recommend using the SX-1 in combination with our TSX-1 adjustable toe arms as in our Alignment Kit 2 (camber kit).  Especially if you're planning to install these on a lowered Tesla or a high mileage Tesla.  Our SX-1 arms will allow you to add or remove rear camber to your liking.  These are a direct drop-in replacement for the original Tesla rear camber arms and come preset to the length of the original non-adjustable arms.  All our products are made with the highest quality materials and craftsmanship for years of endurance and come with an unmatched 6-year warranty.
Description
N2itive's SX-1 rear adjustable camber arms with both custom made spherical and annular bushings are the answer to the crazy inner rear tire wear we experience on the Tesla Model S and X.  The SX-1 arms can be installed by the experienced home mechanic or from a local alignment shop that has experience with aftermarket control arms.  These parts will quickly pay for themselves in the cost of tires alone.  We can help you every step of the way, from selecting the right N2itive parts to finding an installer.  Just let us know.  We're here to help and get your Tesla aligned right.    If you need anything, our customer support is always available.  Contact us with any questions.  We're here to help!
N2itive's SX-1 adjustable rear camber arms come in two variations.  Both come with a 6-year warranty.  The first version is fabricated primarily of heat treated automotive grade aluminum and anodized in a matte red with great corrosion resistance.  The upgraded version is based off of a heat treated aerospace grade aluminum which has almost double the ultimate tensile strength over our heat treated automotive grade aluminum.  In addition to being substantially stronger, this version has an amazing bright nickel black plating finish for improved corrosion resistance and insane looks.  Either way you can't go wrong.  Both versions are stronger than any other brand, including Tesla's own.  The price is per pair or set of two arms.  Contact us with questions. We're here for you!

Why Choose N2itive

At N2itive we give you the highest quality parts and craftsmanship at a reasonable price. Everything we create is meticulously well thought-out, precision engineered and FEA and real-world tested! We are the first and only company to make our camber arms where the threaded adjustment rod remains both on-axis and away from the center of the arm. This improves the strength of the arms by over 40%! That's important with the extreme weight of a Tesla. No one else has this. All of our components are custom made. Nothing is off the shelf. Take our spherical bushings for instance… made with high strength steel that's been electroless nickel plated for amazing wear and corrosion resistance. Each bushing incorporates a Teflon infused Delrin liner for a lifetime of trouble-free, maintenance-free use. You can count on us to only give you the best with all our parts and we back that up with a 6-year hassle-free warranty to the original purchaser. Our products are the strongest, safest and most durable aftermarket Tesla parts you can buy, guaranteed! Not to mention, they look incredible.
Additional information
| | |
| --- | --- |
| Weight | 125 oz |
| Dimensions | 14.25 × 4.25 × 3 in |
| Finish | Matte Clear Anodized, Matte Red Anodized, Bright Black Electroless Nickel Plated, Double Strength Aerospace Grade Aluminum |